Books by MRM & Supaporn Vathanaprida:
THAI TALES: FOLKTALES OF THAILAND
by Supaporn Vathanaprida. Edited by Margaret Read MacDonald. 1994. Libraries Unlimited, $23.50 (1563080966). www.lu.com

Storytelling World Honor, 1995; Elementary School Library Collection, 22nd. Ed.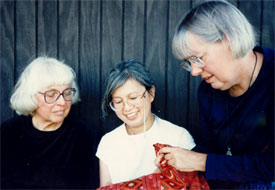 Illustrator Yvonne Davis, Su Vathanaprida, and MRM discuss fabric for The Girl Who Wore Too Much

"A well-rounded representation of the traditional and classic Thai works"...Midwest Book Review

For many years Supaporn Vathanaprida and I worked together at the Bothell Public Library. When Su demanded to know why I didn't have any good collections of Thai folktales in our library, I explained that there weren't many and told her to go write one herself. So she did. I edited it for her and encouraged her to include a note on "The Place of Buddhism in Thai Life." So many of her stories drew on the Buddhist heritage, that I felt this would be useful. In fact the book makes a good introduction to Thai thought for any would-be traveler.

Su learned many of these stories from her great-grandmother, who slept with her when she was a young child and told her stories each night. An audiotape of Su's voice delivering these stories is also available from Libraries Unlimited.

Includes: "Lung Ta, the Calm Woodcutter"; "The Liars Compete"; "The Marvelous Canning Factory"; "The Liars Contest of the King"; "Drinking with Yommaban, the King of the Dead"; "Sri Thanonchai and the King"; "Sri Thanonchai and the Two Moons"; "Sri Thanonchai's Special Dishes"; "Why the Bear Has a Short Tail"; "Tiger Seeks Wisdom"; "The Elephants and the Bees"; "Power and Wisdom"; "The Deer Buddha"; "Seven Stars"; "The Honest Woodcutter"; "The Thieving Crow"; "Who Is Best?"; "The Pious Son-in-Law"; "He Who Thinks He is first is Unwise": "Plenty"; "The Good Boy"; "Medicine to Revive the Dead"; "When Death Comes"; "If It Belongs to Us, It Will Come to Us"; "Muang Laplae: the Land of Fantasy"; "Mouse Island and Cat Island"; "Kaeo, the Horse-face Girl"; "Chet Huat Chet Hai (Seven Pot, Seven Jar)"; "The Twin Stars"; "Songkran: A Thai New Year Story"; "The Daughters of Thao Kabinlaphrom and Their Attributes".
Audiotape:
THAI TALES: FOLKTALES OF THAILAND (Audiotape).
Told by Supaporn Vathanaprida. Introduced by Margaret Read MacDonald. 1997. Libraries Unlimited, $10.50 (1563085771)
"Many of these tales you will want to tell yourself; a number have familiar elements, with just a bit of a twist putting it firmly in its native culture"...Storyline
"This recording could be used in world history and mythology/folklore classes. Most of the tales are seven minutes and under, making them ideal for mini-lessons."...School Library Journal
"perfect for story time in the classroom or library"...Tale Trader
The voice of author Supaporn Vathanaprida relates several stories from her book. Thai music by Siam Sangit ensemble, performed by Su's husband and friends, leads into the stories.
THE GIRL WHO WORE TOO MUCH: A FOLKTALE FROM THAILAND.
With Thai text by Supaporn Vathanaprida. Illustrated by Yvonne LeBrun Davis. August House, 1998. $15.95 (0874835038) www.augusthouse.com
Su and I also collaborated on a picture book retelling of "The Girl Who Wore Too Much", a Pu-Thai folktale from Isaan. Su worked hard to create a flow and mood with her Thai text which would match the English. In this case the story went through several transmissions. Pu-Thai to Thai to English….retold as tellable tale (see SHAKE-IT-UP TALES)…retold as picture book…retold back into Thai as picture book. For more info on the book and activities to accompany it CLICK ON GIRL WHO WORE TOO MUCH